On World Food Day, participants of the Living Wage & Income Lab looked at retailer strategies to reach living wages and incomes for farmers and workers. In lively discussions, and with insights from Superunie, Colruyt and Impact Institute, we delved into commitments, coalitions and important learnings.
You've asked, and we listened. In past Living Wage & Income Lab sessions, we explored topics ranging from impact measurement and sustainable product marketing to strategies for building efficient partnerships. Yet, a persistent query loomed: Why aren't retailers joining the conversation? In response, this session brought the retailers to the stage, focusing on a critical aspect: pricing strategies.
The discussion revolved around the effectiveness of price increases in achieving a living income. Kyra Weers from Superunie, Karen Janssens from Colruyt, and Andrea Rusman from the Impact Institute provided valuable insights. Important contributions came from the audience, from representatives of companies such as Verstegen, Fairtrade Original, Johnny Cashew, and Tradin Organic. Even with the various stakeholders involved, the answers – as expected – were far from straightforward.
Who is paying?
Supermarkets, the key link connecting the entire value chain to the end consumer, traditionally thrive by offering the lowest possible prices. The room asked: are consumers ready to pay more? Looking at products like cocoa, tea, cashew and bananas, we heard living income initiatives' results differing – a lot. In one example, a slight price increase led to sales of a house brand to sink 40% initially, returning to normal a few months later. On another, a compelling narrative from the start delivered a remarkable 22% increase in fair market share.
Among pivotal questions on consumer readiness, we discussed if sustainable products should be marketed separately, or become the exclusive option on shelves. And more importantly, how the imminent mandatory due diligence at EU level is already impacting everyday business practices. From concrete Key Indicator Performance (KPIs) defining sustainability to data validation models, we looked into the complexity of defining sustainability.
What's your negotiation power?
As the sourcing sector of a supermarket can decide to pay more and play with margins, buyers in the room argued their space for negotiation is lower. Karen Janssens from Colruyt acknowledged the need for retailers to take responsibility, but invited us to challenge each other. Buyer partners, she agreed, count on few supermarkets wanting to buy a living income product. "As a supermarket, I could argue that the consumer is also not looking to buy the living income product from me, and we would end here."
In Côte D'Ivoire, the Belgium supermarket is collaborating with Puratos and the Impact Institute to increase farmers' income, already achieving a 37% improvement. Similarly, Superunie shared a project to ensure tea farmers a living wage that will cost only a few cents per actor in the value chain if this responsibility is properly distributed. So, how can we collaborate across the entire chain to replicate these examples, and make sure it doesn't all fall in the lap of one actor in the chain who then also has to take up all the costs?
Key takeaways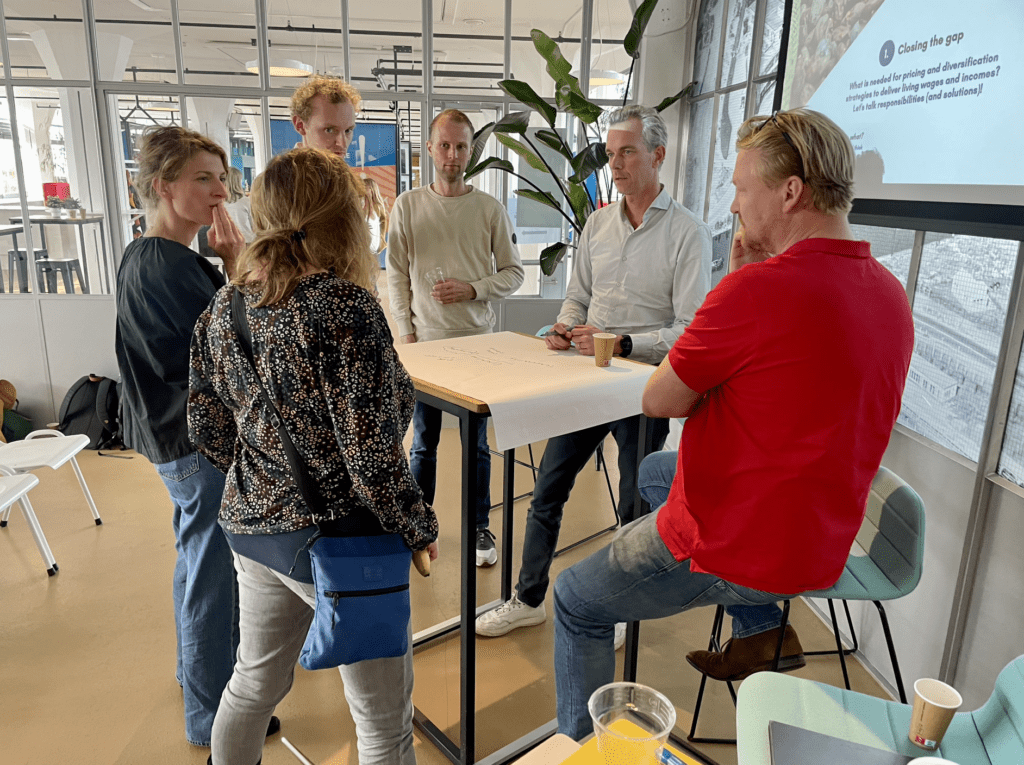 Two key takeaways emerged from the session, specially around the certifications and a changing regulatory landscape. As none of the current certifications ensure new regulatory requirements are met, how are companies' sourcing sectors working their so-called KPIs to make sustainability measurable?
Firstly, participants stressed the importance of secure data points, ground truthing, and fair compensation for farmers who are sharing their data. With new legislation calling for strengthened due diligence processes at farm-level, traceability is needed, as well as stronger models for data validation. For instance, to verify product origins or ensure farmers are receiving and benefiting from premium payments.
Secondly, the need for pre-competitive advantage surfaced. Encouraging partners to engage in collaborative projects remains a challenge. Participants, spanning from brands and companies to civil society organisations and certifiers, sought platforms that foster sustainable practices while ensuring a competitive edge for growers, traders, and even the retailers. Kyra Weerts from Superunie reminded that sustainability is not a competitive arena; it's a shared responsibility.
As we reflect on these discussions, it's evident that transforming the landscape of supermarket shelves requires collective effort. The journey toward making living income products the norm still depends on a shared commitment to a sustainable future. With these insights as our guide, we prepare for the next Living Wage & Income Lab Session in December. Make sure to subscribe to our newsletter to join us then!